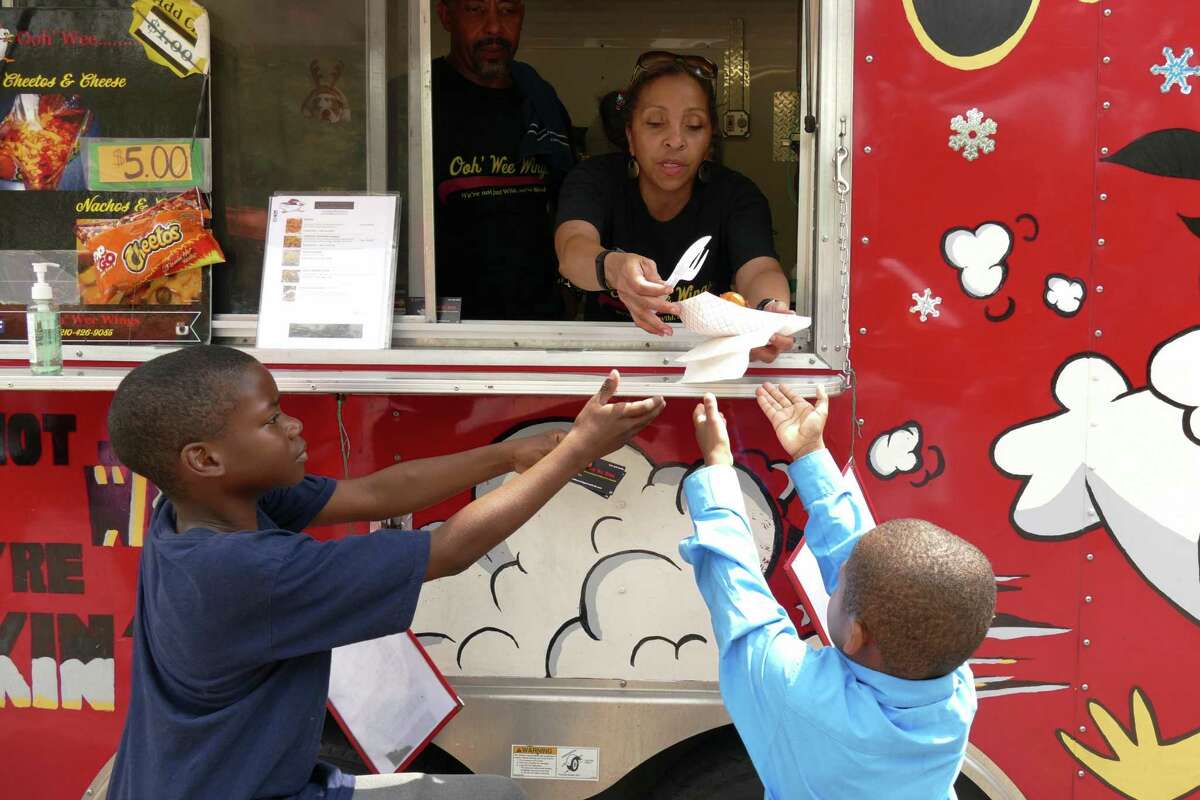 Having been cooped up since a knee replacement surgery a month ago, Maria Long was going stir crazy.
So she and her husband drove downtown from their Southeast Side home Saturday, hours too early for the Armed Forces River Parade. They heard music coming from Maverick Plaza in La Villita and went over to investigate, although Maria Long was on crutches.
What they found was a pleasant surprise: the Soul Food & Gospel Festival, with a lineup of gospel, jazz and R&B musicians and vendors selling barbecue, Jamaican food, wings and Southern desserts including peach cobbler.
"I've been here 46 years and I never knew they did anything like this," Maria Long said. "It's different from every other festival that happens in San Antonio. Other festivals are more Mexican-based."
The festival has taken place every year since 1999, said organizers from the La Villita Heritage Society. For this year's festival, which took place Friday and Saturday, admission was free, but the crowd was asked to bring canned food to split between the San Antonio Food Bank and the Little Church of La Villita. Proceeds from vendor sales went to benefit the Eastside Branch of the Boys & Girls Clubs of San Antonio.
Saturday's most-anticipated performers included Kyle Turner and jazz violinist Michael Ward, a Sam Houston High School alumnus.
"We formed together to help the community," said Danielle Hamilton, entertainment coordinator for the La Villita Heritage Society. "We really reach out to children of lower income through education and participation in the arts."
The festival grew out of what used to be Pride in the East Side festival at Pittman-Sullivan Park, said Michelle Daniels, whose husband Charles owns Daniels Bar B-Q & Catering. The East Side Economic Development Corp. ran that festival, she said, until city officials persuaded them to move it downtown.
Daniels, the parent coach at Sam Houston High School, said she likes that tourists who walk into the festival get to see the blend of all cultures in San Antonio. A bicycle officer with the San Antonio Police Department told her Saturday that he rounded a corner, smelled her husband's food and followed his nose to buy lunch there.
"Most of us are small entrepreneurs hoping that one day, the right person will taste the food and offer us the chance of a lifetime," said Michelle Daniels, laughing.
In the early afternoon Saturday, a few dozen people milled around Maverick Plaza or sat in chairs close to the stage, where teenage voice students were performing pop songs.
The La Villita Heritage Society held a fashion show in October to cover some of the festival's costs, said Vanessa Brooks, the group's vice president. The festival lost money one year, when a similar fundraiser, a jazz concert, was rained out halfway through. Even after 17 years, Brooks said she thought the festival would grow more popular with time.
"One day it'll be big and we'll be part of it," Brooks said. "Big like Fiesta. Just another historic San Antonio, Texas event."
amalik@express-news.net